Posted by Kelsey Johnson on 21st Apr 2020
Comfrey is a perennial herb found in moist grasslands in western Asia as well as in North America. It has bell-shaped red-violet or yellowish flowers.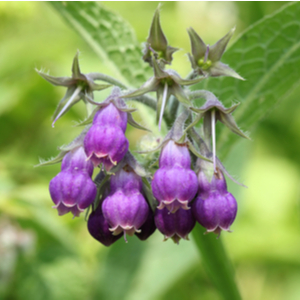 Why do we love Comfrey? It is because it has some amazing topical uses. Like what? Throughout most of human history Comfrey has been used as a healing herb. External use of its leaves and roots have been used to heal burns, sprains, swelling, and bruises. Comfrey has also been used topically for treating inflammatory disorders such as arthritis, gout, and thrombophlebitis.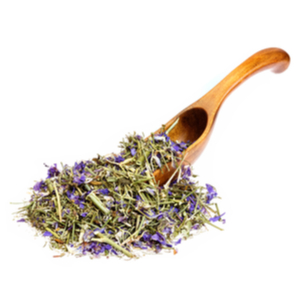 Comfrey soothes and protects damaged tissues. It helps reduce pain, especially in the bones, tendons, and lungs. It is best known as an herb that can help regenerate cells. Comfrey is also included in lotions and salves to treat bruises, burns, carpal tunnel syndrome, eczema, fractures, hemorrhoids, scars, sunburn, swellings, wounds, wrinkles, and varicosities. As a bath herb, comfrey can soothe dry skin, and it can be added to shampoos and conditioners to treat dandruff and dry scalp.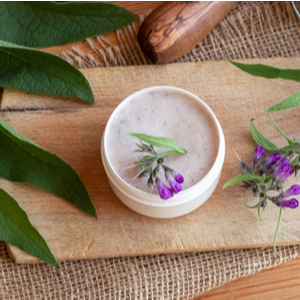 Pretty impressive right? But how does it work? One of comfrey's most important ingredients is allantoin, a biogenic stimulator that is used to treat dry, rough, or wrinkled skin. Comfrey also contains romarinic acid which helps relieve pain and inflammation.
It's no wonder why this wonderful herb is used a lot in body care products. If you would like to try an all natural product that contains Comfrey root powder in it, check out dayspabodybasics.com. You can type Comfrey in the search bar at the top of the page if you would like to go straight to the products that contain Comfrey. A couple of the products that have Comfrey powder is the Arnica Muscle Balm and the Arnica Massage Oil. These products not only contain Comfrey powder, but also have Arnica in them. This is a wonderful combination to help to relieve many of the common aches, pains, and injuries that arise in our daily lives. I personally use the Arnica Oil all of the time. It is definitely a necessity in our house.
If you enjoy learning about natural ingredients and how they can benefit you, check out our other blogs at www.dayspabodybasics.com. These Ingredient Highlight Blogs explain the benefits as well as the products we use them in.