Posted by Kelsey Johnson on 4th May 2023
Do you love chocolate??? Most people do! If you are we have a great recipe we would like to share with you! This recipe is easy, doesn't require many ingredients and best of all it's healthy! That's right, HEALTHY! Whoop whoop! This recipe was discovered by a mother of three, who worked at home and homeschooled her oldest child. So needless to say, she was around kids A LOT! She discovered as many parents have, that kids need activity or else they may drive you insane! We say this out of love, we all absolutely adore our children but it can be hard to keep them entertained at times.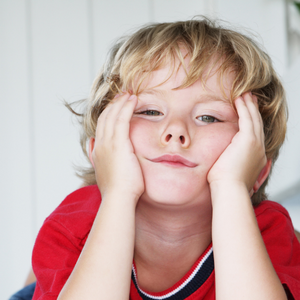 Another factor to the founding of this recipe is most parents are really concerned about keeping their kids healthy. This mother in particular had been on the whole30 program because of health issues and felt so good she decided to continue eating this way and encouraged her children to do the same. Her kids did a pretty good job, but of course there were times they wanted something "sweet" that wasn't fruit.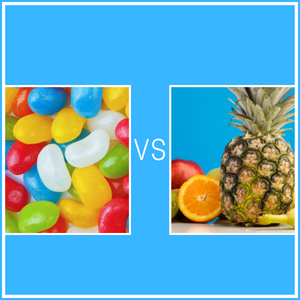 Thus came the idea to make healthy chocolate treats!!! At first this recipe seemed too good to be true. How could chocolate candy be healthy for you? Well it's true, it is not only good for you but it tastes great! Now that we have discussed the history behind the making of this recipe, let's get to the details!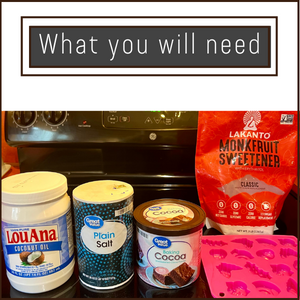 Coconut Oil Chocolate Recipe:
2/3 cup coconut oil
1/2 cup cocoa powder
1/3 cup monk fruit simple syrup ( I will explain how to make this in the instructions section. You can also use honey, maple syrup or even date syrup.)
Pinch of salt
Instructions
Make your monk fruit simple syrup. You do this by getting your 1/3 cup measuring cup. Fill it halfway with monk fruit sugar. Place in small saucepan. Then take that same measuring cup and fill halfway with water. Place the water in the sauce pan on medium heat. Heat until the monk fruit sugar dissolves.
Remove saucepan from heat. Add coconut oil to simple syrup recipe. Stir with whisk until well combined.
Add cocoa powder and place saucepan on low heat for a minute or too, until the mixture is smooth. (Make sure not to over heat or else the mixture will get really gritty.)
Place chocolate mixture in either silicone molds or you could just place it in a freezer safe container. Put in freezer until the chocolate hardens.
Simple right?! Amazon has a ton of options for silicone molds that work great with this recipe. Here are some fun bug chocolates!