Posted by Kelsey Johnson on 5th Feb 2021
Baths have been used for relaxation and hygiene throughout mankind's history. Throughout all this time, people have come up with a number of ways to make baths more enjoyable and even more beneficial for your skin and overall health. Bath salts, oatmeal, baking soda, tea, milk, oil, vinegar and of course flowers and herbs are common ingredients that have been used to improve baths. Today there is a large supply of products that you can add to your bath. If you were to look up all your options, it can get a bit overwhelming.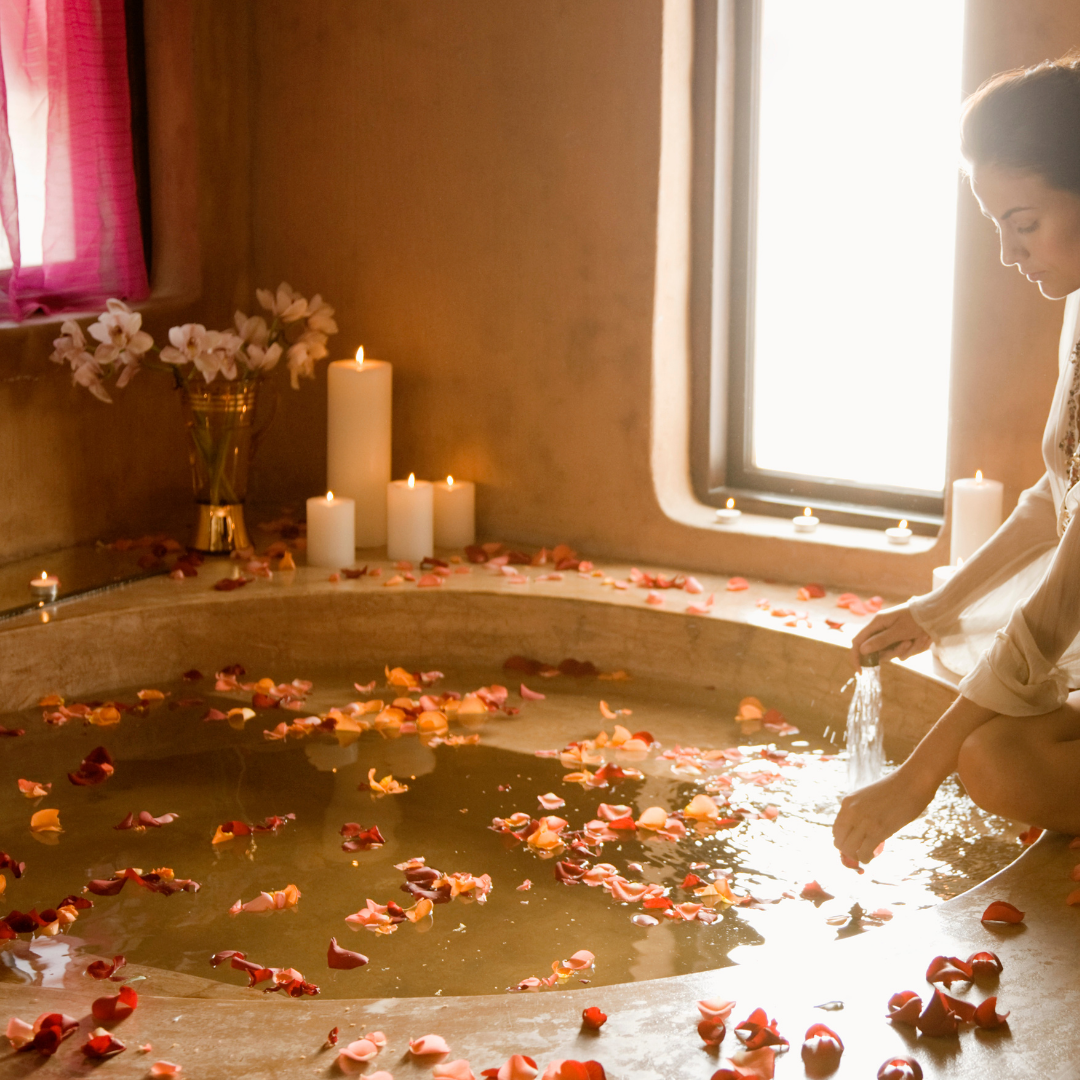 If you are looking for something that is both enjoyable and good for you, you will love our fizzy bath blasts. Our fizzy bath blasts are a quick and convenient way to turn any bath into a relaxing spa. Indulge yourself in a relaxing soak with a handmade Fizzy Bath Blast, exploding with essential oils and fizzy fun!
All of the ingredients in our Fizzy Bath Blasts are 100% natural and hypoallergenic. They leave your skin smelling amazing, and feeling silky smooth. We have one for every bathing experience. Here is a list of our different types of Fizzy Bath Blasts:
Blue Tansy- Blue Tansy has a scent similar to chamomile and is used in aromatherapy for relaxing the mind and body. This is great for tea lovers or those who want a mild scent.
Cold Season- Under the weather? Our Cold Season Fizzy Bath Blast is made up of healing ingredients that will help relieve cold and flu symptoms to help you feel better!
Earl Grey- Earl Grey is a traditional herbal scent, with hints of Italian bergamot and black tea, that is both fresh and clean. This is also great for tea lovers!
Foot Soak- This is especially formulated for your feet. Your feet work hard for you every day so reward them with a little extra TLC.
Huckleberry- Here in Montana we pride ourselves with the sweet and intoxicating smell of huckleberries. This scent is truly mouth-watering!
Lavender Mint- Clean mint with calming lavender create a perfect combination to refresh and relax.
Muscle Relief- A mustard bath is a traditional English remedy for tired, stressed muscles.
Lavender- Lavender has been used since ancient times to revive the mind. The scent is said to have a calming effect which aids in relaxation.
Pumpkin Vanilla Chai- Many find a warm cup of chai tea to be comforting. We have created a way to enjoy the sweet smell of chai any time of the year with pumpkin, warm vanilla, and the spicy scent of cardamom.
Sicily Rose- Sicily Rose is a blend of delicate Bulgarian rose oil, sandalwood, and the innocence of bourbon vanilla.
Sugar Plum & Fig- Enjoy the sweet smell of sugar plums and the exquisitely rich scent of figs.
Sweet Jasmine- Jasmine is exotic, mystifying and mesmerizing. It is no surprise that it is one of the most expensive essential oils.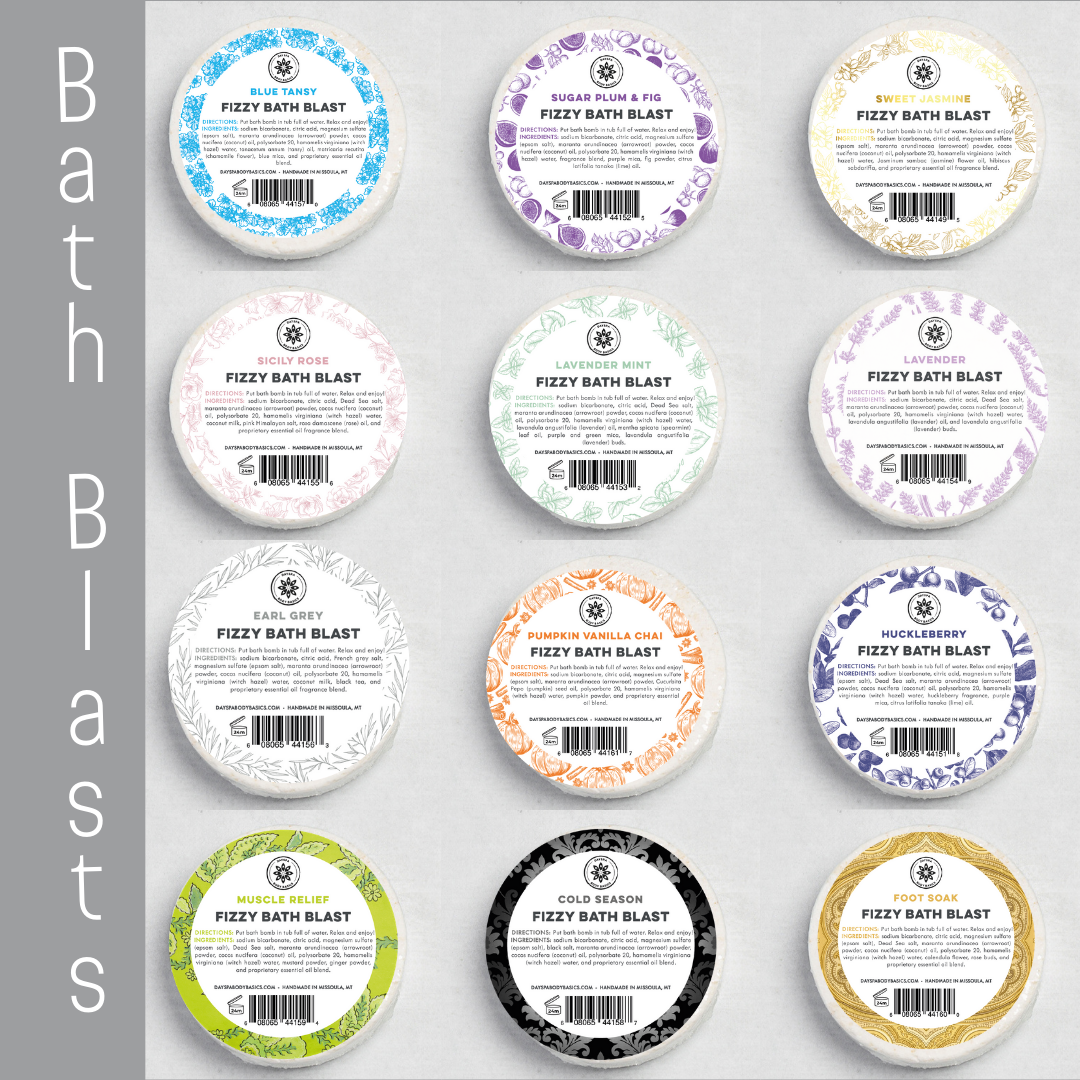 Having a difficult time choosing which scent you would like to try first? No problem! We have a deal, that if you purchase 4 or more Fizzy Bath Blasts, then they will only be $5 each! So you don't have to choose just one. Follow us on Instagram, Facebook, Pinterest.