Posted by Kelsey Johnson on 5th Dec 2022
Gift giving can be so much fun! Finding the right gift for everyone, on the other hand, can be challenging. That's where we come in! We have created a multitude of gift boxes that will appeal to everyone in the family. Our gift boxes contain premium products, with natural and organic ingredients. The boxes are handcrafted in the U.S.A from a company founded with a simple mission, to put nature back into peoples lives. They also want to bring jobs back to America, while bringing quality products to consumers. With every product they sell, they plant a tree. It is their way of making a better world for future generations.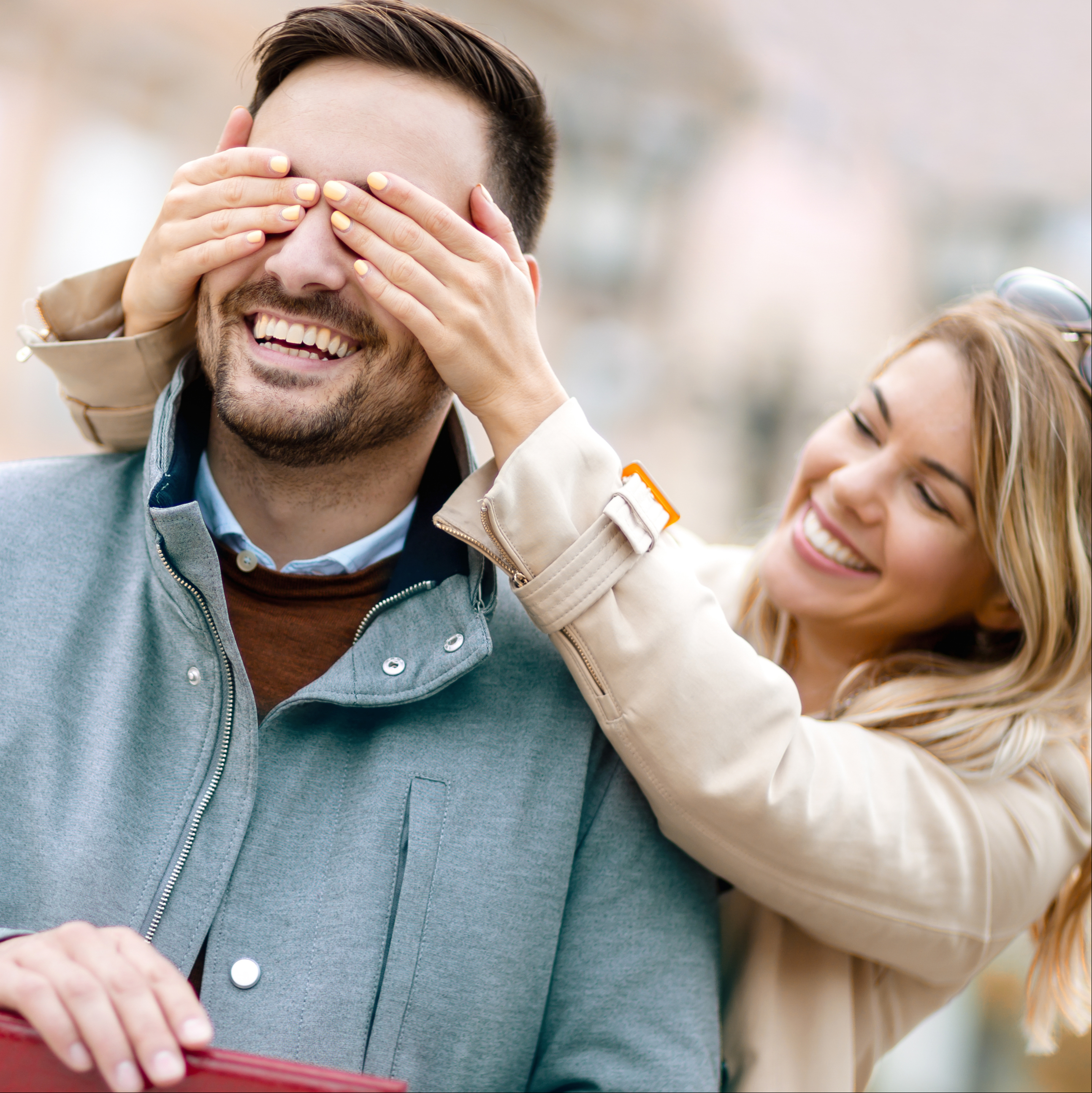 As mentioned above we have many different gift boxes, but in this blog we will just mention 9 of them. So enjoy reading and hopefully this will inspire you to give a gift to someone you love!
For Him
Whether you are trying to find a gift for your husband, boyfriend, father, brother, grandfather or friend, our "Old School Wet Shave Must-Have Gift Box" is a great choice. Shaving can be really tough on skin, causing redness and irritation. Most men do not enjoy the shaving process, but the products in this gift box are perfect for any skin type! All of the products are sensitive and soothing, making shaving a breeze. This gift box includes:
Pre-Shave Oil
Artisan Pure Glycerin Shave Soap
Alcohol-Free After Shave Tonic
Mango Wood Lathering Bowl
Solid Cologne
Chrome Butterfly Safety Razor
Badger Brush
Chrome Brush and Razor Stand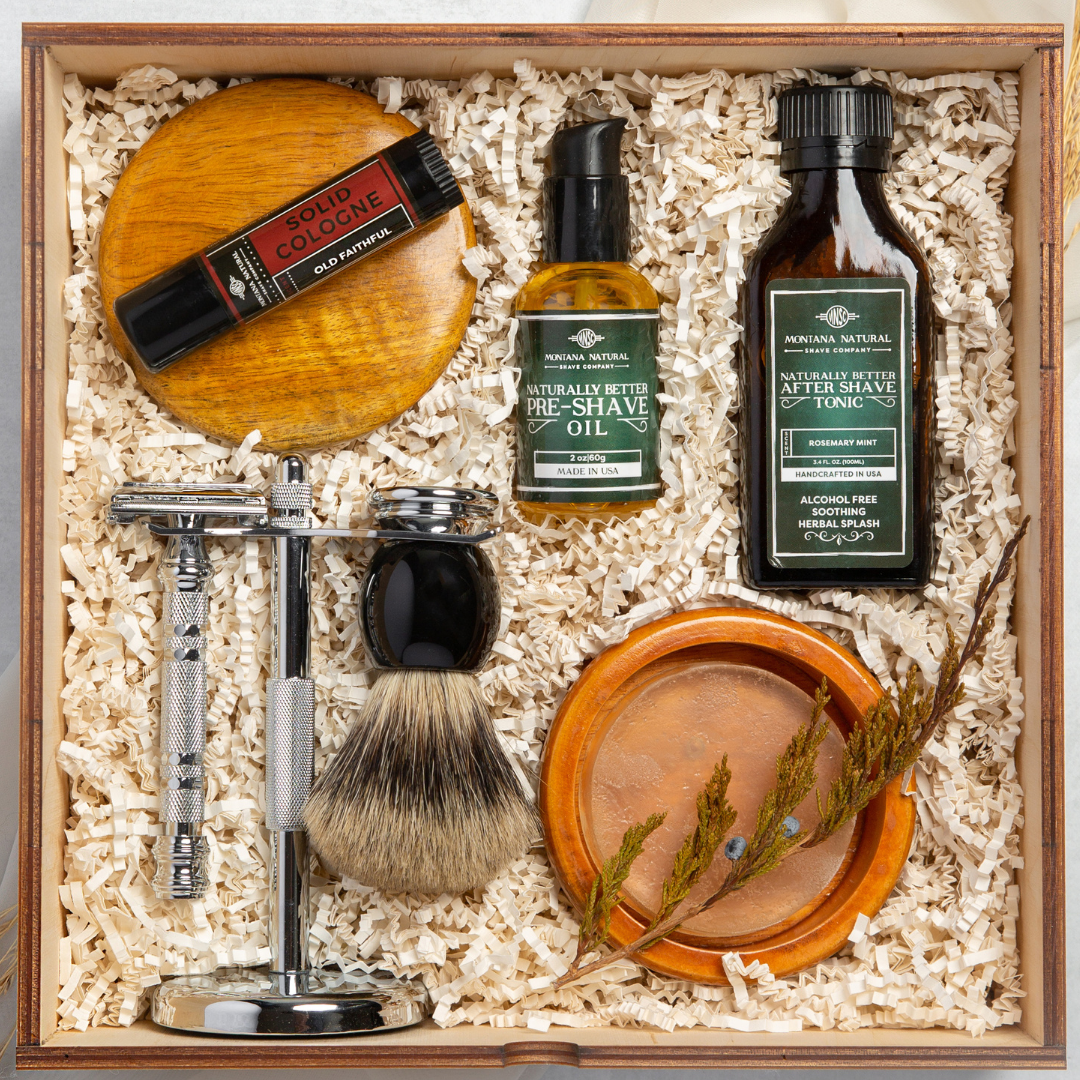 For Her
The ladies in our life deserve a spa day! Sadly, circumstances don't allow many women to actually go to the spa. With our "Sweet Jasmine Bath & Body Gift Box" you can provide everything needed for the beloved women in your life to treat themselves to a spa day at home. This gift box includes:
Sweet Jasmine Luxury Lotion
Sweet Jasmine Body Oil
2 Sweet Jasmine Bath Bombs
Sweet Jasmine Glycerin Face Soap
Packaged in a keepsake wood box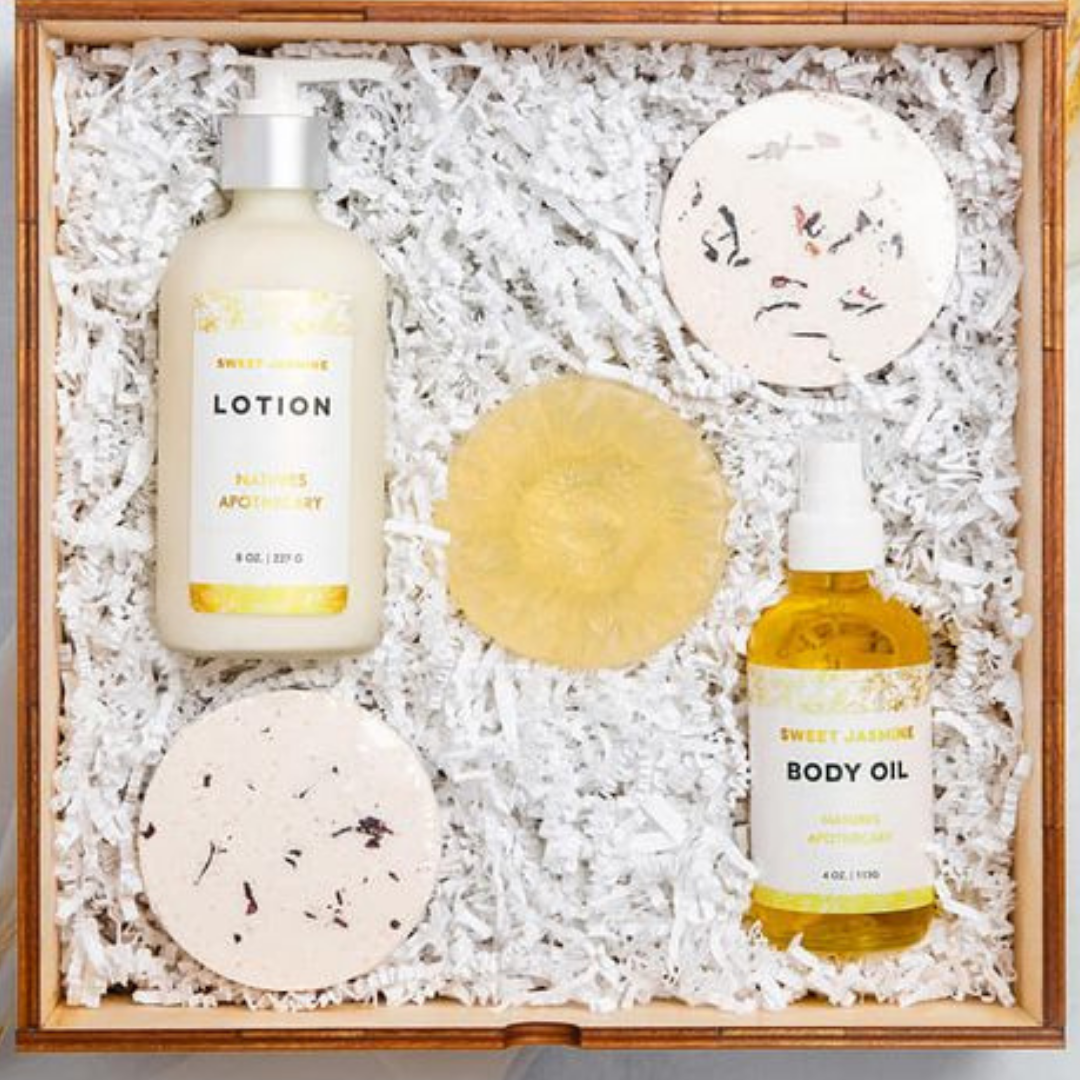 Someone Who Is Sick
Right now so many of our friends and family are having to deal with a multitude of sicknesses. We can feel so helpless, and have no idea what we can do to help them get through these difficult times. Our "Quarantine - Get Well Soon Gift Box" is a must have for anyone you love who may be under the weather. This gift box includes:
Bath Salts - Aromatherapy bath salt blend made especially for cold & flu season.
Herbal Cold Balm - A non-medicated balm that contains pure essential oils of eucalyptus, camphor, tea tree, and lavender. Perfect to help soothe and relax. Our balm contains natural beeswax and high-quality organic oils as a base, instead of the more commonly used paraffin and petrolatum.
Herbal Bed & Body Mist - Instantly refresh the air and bedding with our all-natural refreshing Herbal Mist. It's an instant botanical pick-me-up for when you feel like everything is covered in germs. Not only does our Herbal Mist smell terrific, it feels comforting.
Traditional Medicinal Herbal Tea
Local Raw Honey & Spoon
Note/card with your message. Just let us know what you want it to say in the comments section of your order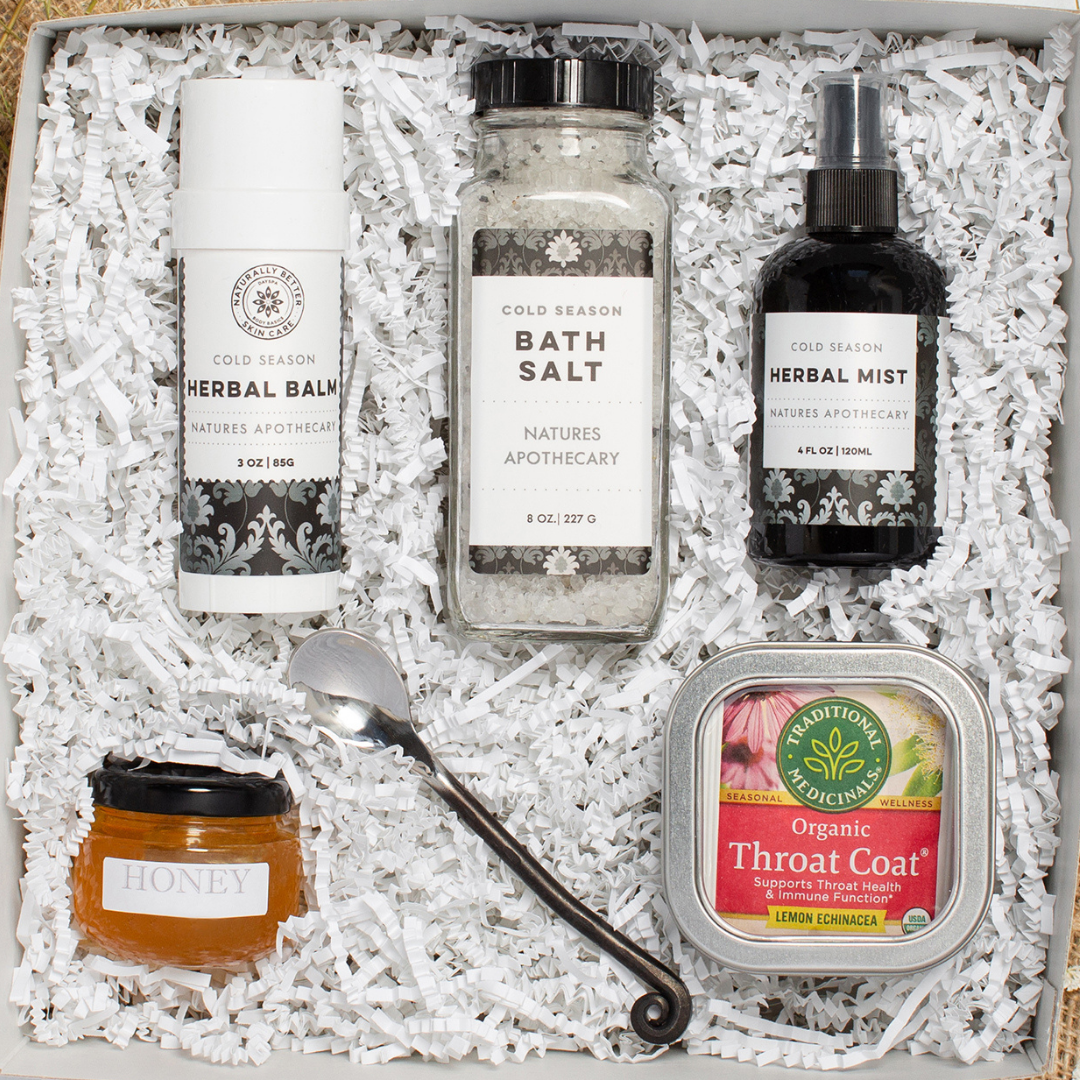 Pregnant/Expecting
Do you know someone who is expecting? Being pregnant is a wonderful experience. Sadly, it's not always fun and games. Pregnancy takes a huge toll on a women's body and mind. All expecting mommies deserve a little TLC. Our "Mom-To-Be Luxury Gift Set" is a perfect way to congratulate and pamper any expecting momma! This gift box includes:
Lavender Mint Luxury Lotion Belly Oil
Belly Butter - Cocoa Butter Moisture Stick
All-Natural Hand Sanitizer Spray
Nursing Balm - Calendula Nipple Butter and Soothing Cream
Organic Cotton Swaddle Blanket
Packaged in our signature made in the USA white birch wood box, perfect for keepsakes.
Note/card with your message. Just let us know what you want it to say in the comments section of your order.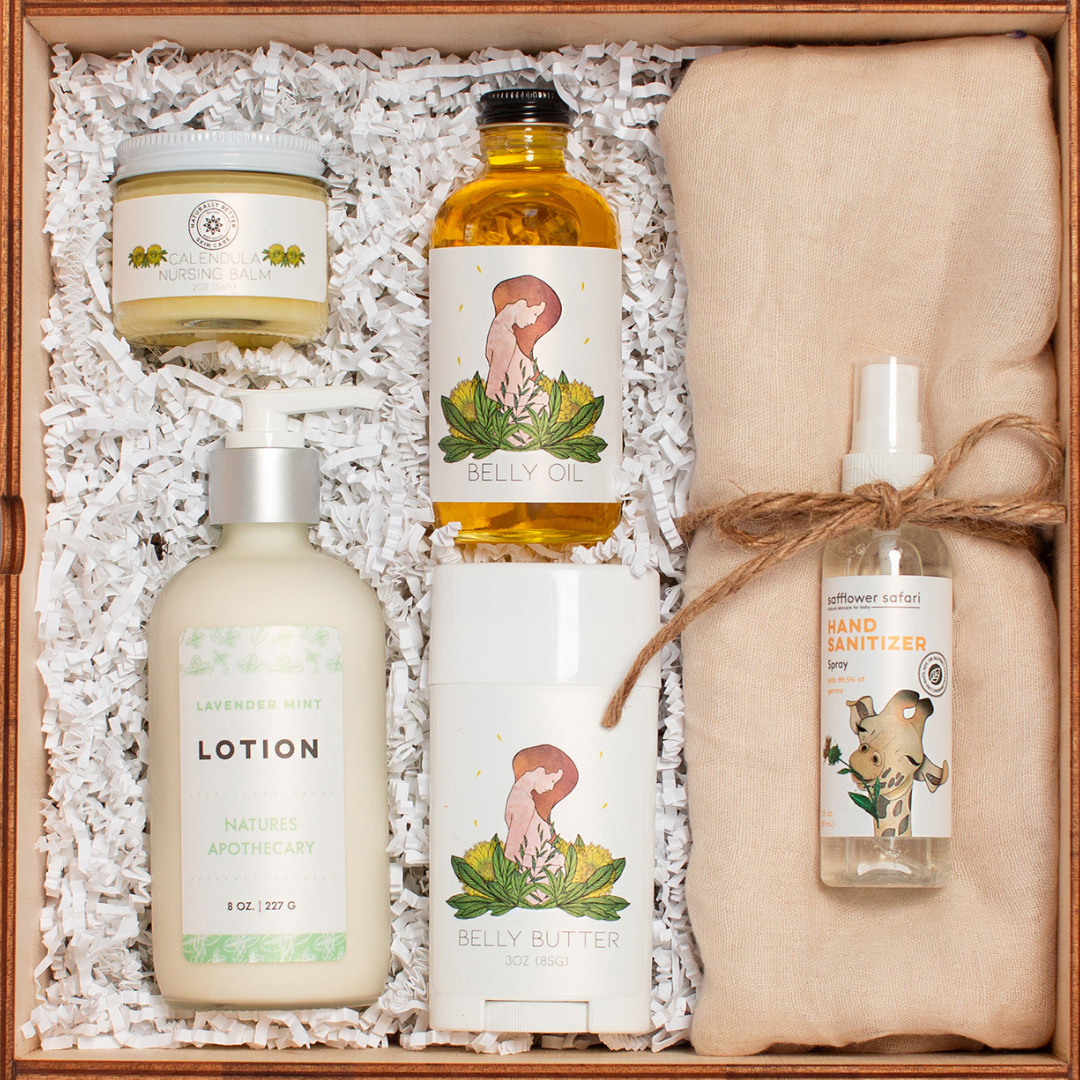 New Parents
Being a new parent is crazy! There are a flood of emotions once your little bundle of joy arrives. It can be a bit overwhelming thinking of everything you need to care for your little one. Our "New Parents - Luxury Gift Box for Baby" is a great way to congratulate and help out new parents. It is gender neutral and includes:
Talc-Free Silky-Soft Herbal Baby Powder
Hand Sanitizer with Aloe & Glycerin - Must-have for changing tables
Zinc Balm (Butt Cream)
Calming & Hydrating Baby Lotion
Organic Cotton Swaddle Blanket
Calendula Butter - Soothing Relief for Dry, Eczema-Prone Skin
Cheek Stick to Moisturize and Soothe
Baby Sloth Snuggle
Packaged in our signature made in the USA white birch wood box, perfect for keepsakes.
Note/card with your message. Just let us know what you want it to say in the comments section of your order.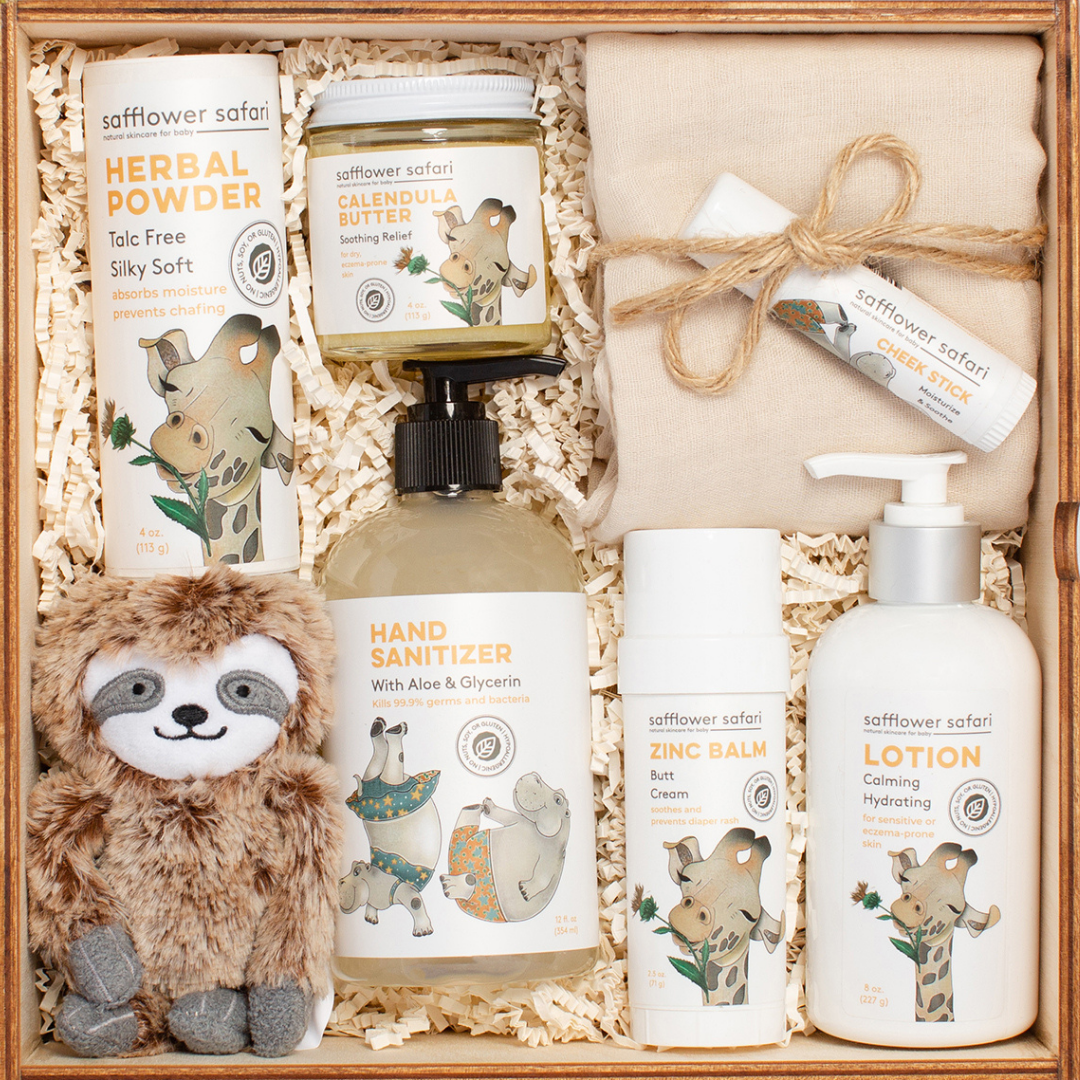 Tea Lovers
Earl Grey is one of the most popular and recognized tea beverages in the world. For all your tea loving friends, our "Earl Grey - The Gift of Luxury - Tea Lovers Gif Box" is perfect! This gift box includes:
Earl Grey Liquid Hand Soap
Earl Grey Luxury Lotion
Earl Grey Lip Butter
Earl Grey Facial Soap
Earl Grey Bath Bomb
Earl Grey Tea
Metal Tea Spoon
Raw Honey
Artisan Made Pottery Tea Bag Saucer from https://www.jmacspottery.com/
Hand Illustrated Tea Cup Note/card with your message. Just let us know what you want it to say in the comments section of your order
Packaged in a keepsake wood box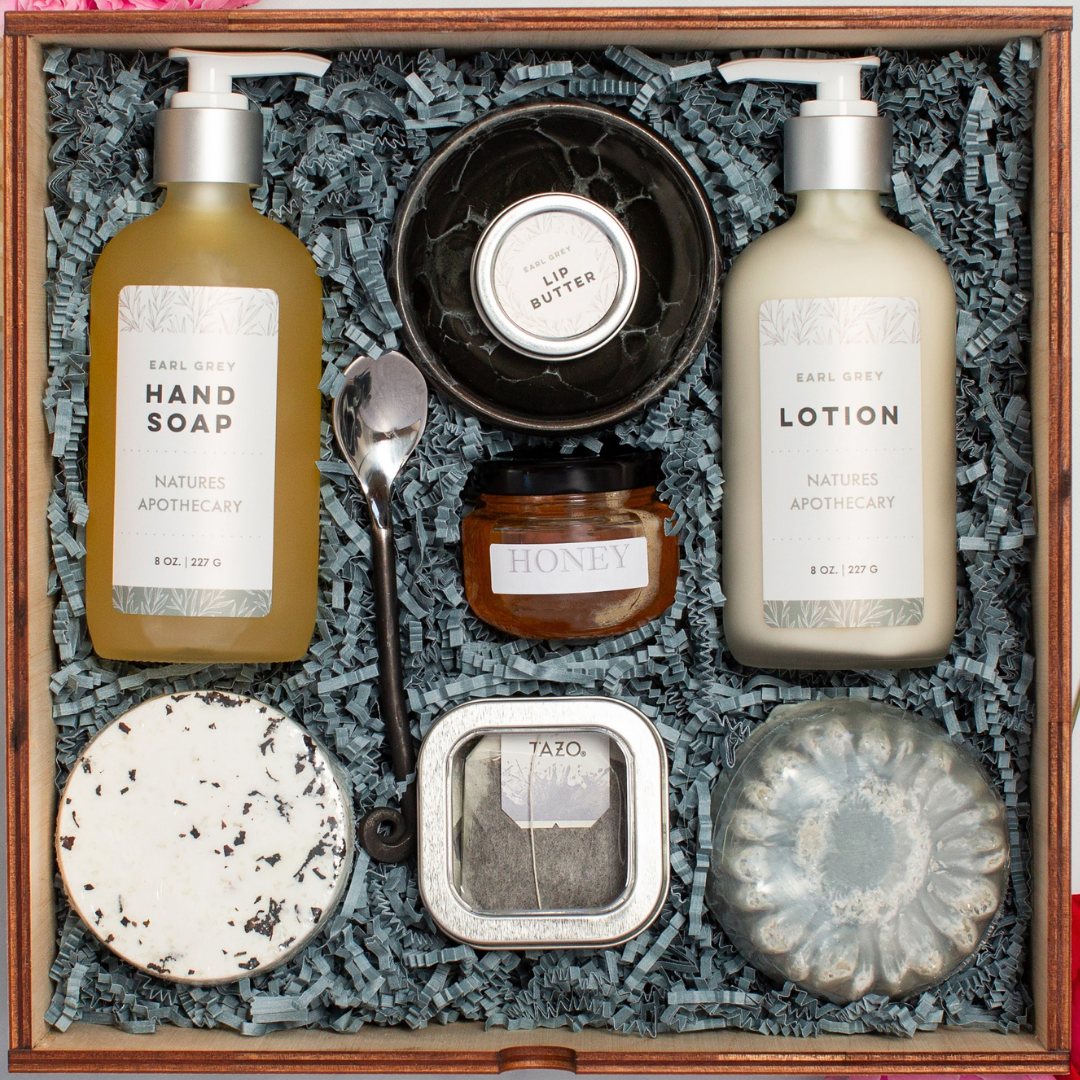 Housewarming Gift
Moving is stressful! Our "Kitchen Gift Set" is a great way to make a new place feel like home. Spruce up a new place with the comfort of homemade jam and basic necessities. This gift box includes:
Buck Naked Luxury Lotion
Buck Naked Liquid Soap
Metal Holder for Liquid Soap and Lotion
Chocolate Bar
Farm Animal Tea Towel
2 Jams from Rocky Mountain Jams
Packaged in a keepsake wood box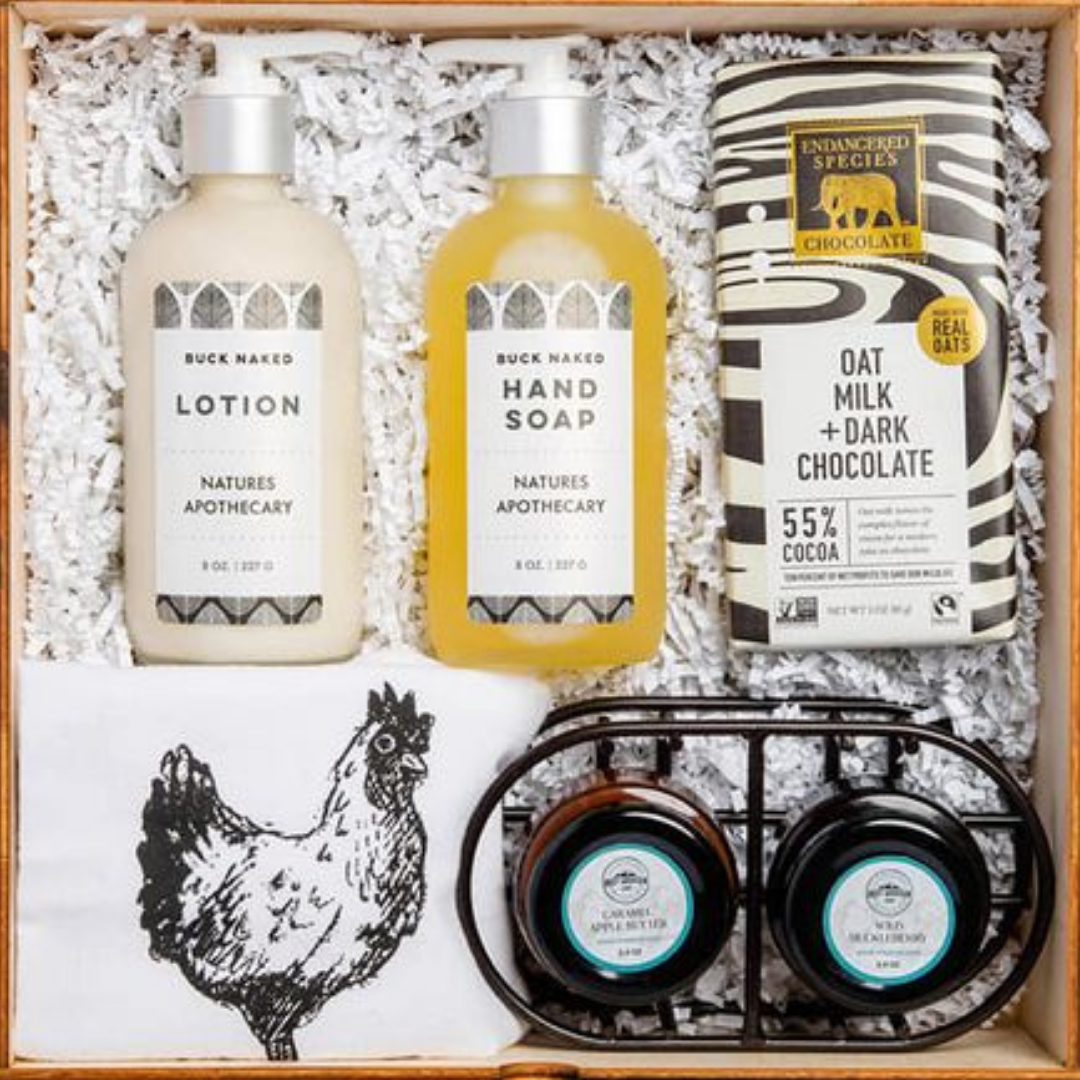 Travelers
Whether for work, or for other reasons, many have to travel. While traveling can be fun, it can also have its downsides. For instance, traveling itself can prove to be taxing, whether it's a long car ride or flying on a plane, it is nice to have something to pass the time. It is also nice having a way to document the highlights of your travels. Thus our "Take Me Anywhere Gift Set" is a great gift since it includes a travel journal plus other pleasantries that are TSA-Friendly. This gift box includes:
Travel Journal
Solid Shampoo Bar - TSA-Friendly
Sunscreen Stick - TSA-Friendly
Packaged in a keepsake wood photo box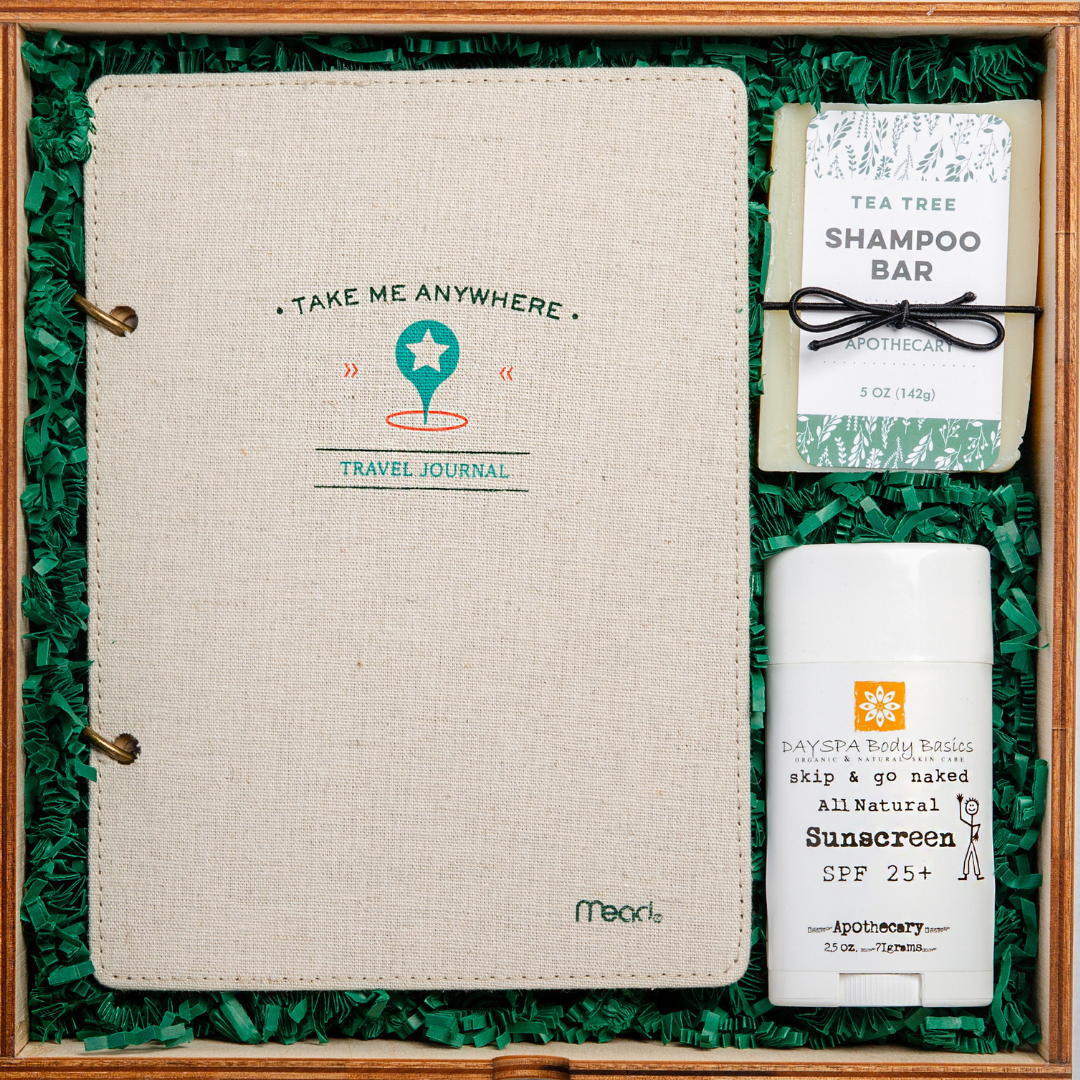 Bearded Friends/Family
Beards are in! We all have bearded buddies. There are all kinds of beards out there, from the mountain man to the groomed goatee. One thing all beards have in common is they all require maintenance. Our "Ultimate Beard Care Gift Box" is perfect for any beard and makes grooming even the most wild facial hair no problem! This gift box includes:
Beard Wash & Shampoo Bar
Beard Balm
Mustache Wax
Beard Oil
Beard Brush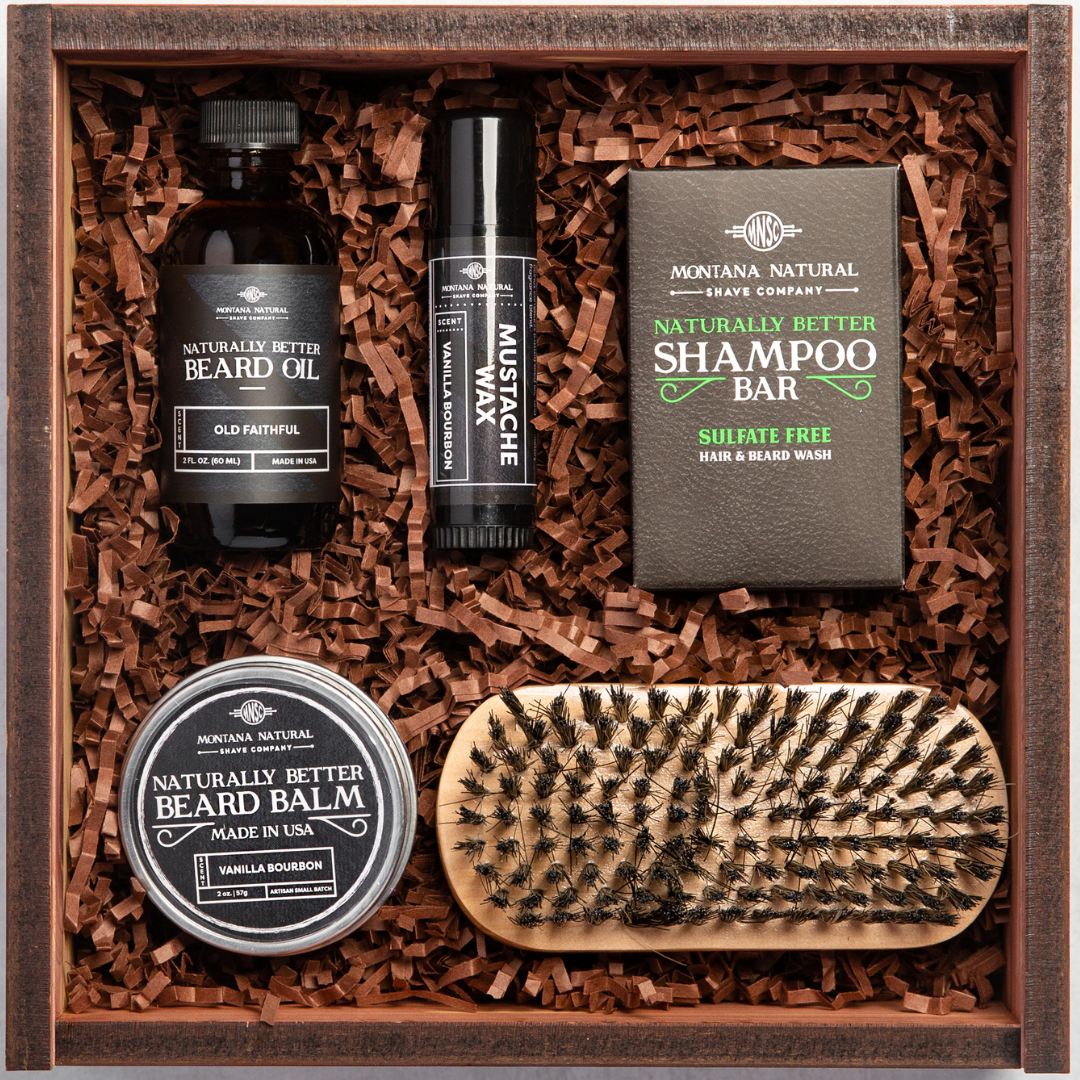 While reading this, did specific people come to mind? If so, why not surprise them with the perfect gift box! Check out our other gift box options NOW! Follow us on Instagram, Facebook, and Pinterest. We would love your support!